Tuesday, April 14th, 2020
Need some bridesmaid dress inspo? Choosing a look for your girls can be both fun and challenging as pleasing everyone is not the easiest job in the world!
That is why today, we're sharing with you the bridesmaids dress trends expected to make an appearance over the next year to help inspire you on your dress search for your besties.
This year is all about unusual necklines, bold colours and statement detailing, so prepare yourself for our round-up of 7 bridesmaids dress trends that are hot in 2020!
Rich Velvets
Smooth, silky velvet is a key trend for bridesmaids dresses in 2020 and 2021. This regal fabric adds a little bit of shimmer without being too in your face as glitter or sequins can sometimes be.
Although it may seem to be a material of the '50s or '70s, velvet has been making a comeback these past few years, and we can see why – velvet dresses can look luxurious and elegant without having a huge price tag attached to them.
Plus, an understated velvet dress is also re-wearable, which will be music to your girls' ears knowing that they can rock that dress out to a fancy meal right after your wedding day!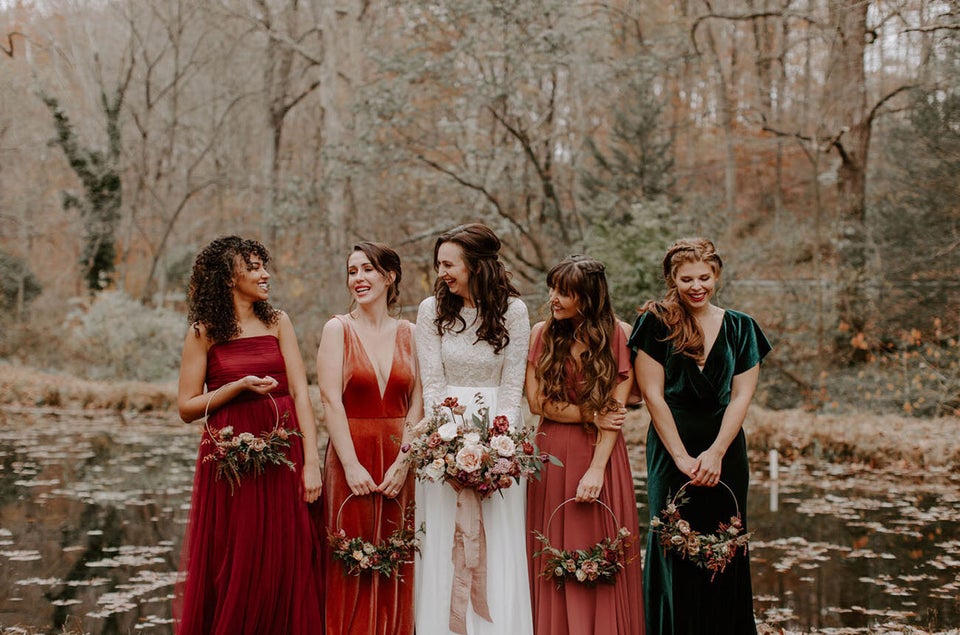 Dressy Jumpsuits
If your besties (or sisters) aren't the girly gown type, you can fulfil their wishes of something a little more versatile with a dressy sort of jumpsuit instead.
To keep this usually relaxed style a bit more formal, make sure the fabric is luxe, velvet or satin are great choices, and keep the colours plain. The best bit with this 2020 trend is that your bridesmaids will be able to dance like crazy in their floaty trousers.
Delicate Halter Necklines
We have all seen Meghan Markle's iconic ceremony dress, but did you spot her second wedding dress? Meghan's 'reception' dress was a sleek halterneck number designed by Stella McCartney.
Although the royal wedding was almost two years ago, this trend will be following us over the next year, and we're expecting it to be an especially prominent style for bridesmaids dresses.
A delicate halterneck gown is an ideal option for creating a statuesque, formal look—for example, if you're having a black-tie wedding and want your wedding party to look super smart.
Tasteful Embellishments
This trend is less about specific shapes, colours or adornments and more about character. There's no denying that trends have been notably minimal on the bridesmaid scene of late, but we're expecting things to change around in the coming year with the notion of 'less is more' being thrown to the curb. This year will bring back frills, intricate beading, bright colours, unique uses of sequins and even tassels galore – it is the '20s after all ladies!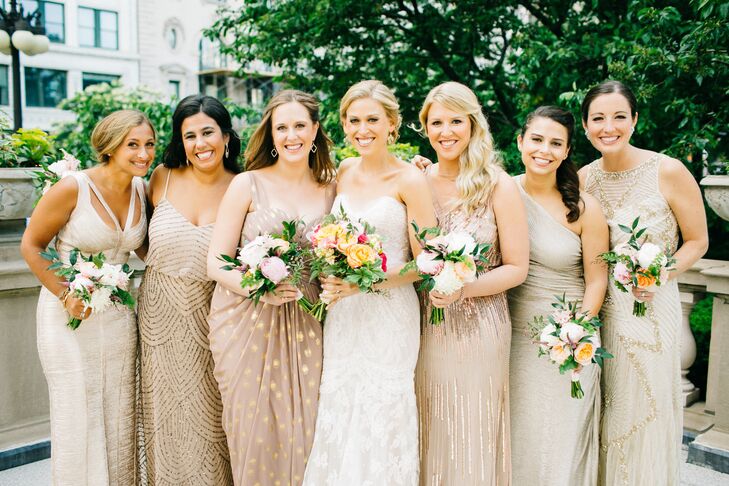 Bold Colours
Yellow, orange, burgundy, navy and dusty blue are the colours of 2020! Yellow and orange are beautiful, bright and arguably magical colours that will lift the mood of anyone wearing the dress and those around them.
They will also brighten up your wedding pictures if it's a cloudy day (which, let's be honest, is more than often here in the North West of England). Burgundy is a classic colour which never seems to go out of fashion and the warm, rich tones are just perfect for a winter wedding.
Navy and dusty blue are colours that were notably spotted in a few collections in New York Bridal Fashion Week. These colours compliment most skin tones and are fantastically versatile shades that work well with a number of hues if you wish to have a few colours running through your scheme.
Structured Silhouettes
If bold colours or embellishments aren't for you, and you would prefer a minimalist, streamlined look for your wedding party's attire, then this trend of structured silhouettes will be right up your street.
This style breaks away from the traditional bridesmaid dresses that feature floaty, flowy fabrics like tulle and chiffon and instead makes use of more thicker fabrics that can offer more structure such as satin or taffeta which create for an ultra-sophisticated look. Structured gowns can be made to work well with every body type and present a look that's both simple and dramatic. 
Sleek One-Shoulder Gowns
One-shoulder gowns are making a comeback this year. This asymmetrical neckline was very popular in the early 2000s, and if we should know anything about fashion and trends, it is that we shouldn't be surprised when things come back around, and that's exactly what we're seeing with these sleek one-shoulder gowns which are set to become a popular choice of neckline for bridesmaids 2020.
Be sure to check our Autumn wedding fayres here where we'll be hosting a fab range of North West wedding suppliers, including Bridesmaid dress boutiques!